area around old mill barn
The beautiful village of Gamblesby
is a truly rural village nestling at the base of the mighty Pennine hills, just 10 miles north east of Penrith and junction 40 of the M6. It takes about 30 minutes to drive to the beautiful lake Ullswater and 45 minutes to Keswick. For those interested in the world heritage site of Hadrian's Wall (and who wouldn't be?) we are within a pleasant hour's drive of some of the best forts and visitor centres. Perhaps less well known, but definitely worth a visit, is the city of Carlisle with its beautiful sandstone cathedral, castle which imprisoned Mary Queen of Scots, and interesting shops and architecture - all this just 40 minutes away. A trip to the border Scottish town of Gretna and its Outlet centre is only 50 minutes.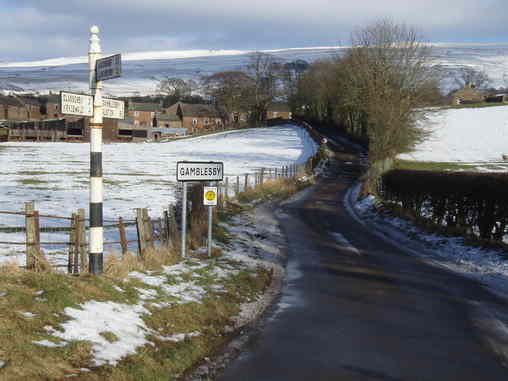 But there is no need to travel further afield as there is so much to enjoy in our own lovely Eden Valley, so named after the gently winding River Eden which flows from close to North Yorkshire all the way to the Solway Firth. Along its banks you will find some memorable walks and some good fly fishing. The Eden Valley is largely undiscovered by tourists making your walks and drives more relaxed and shops, tea-shops and visitor attractions more welcoming.
The village of Gamblesby is a fine example of a medieval fortified village and is a Conservation Area to reflect this. It is built of lovely red sandstone, giving the village, and indeed the whole area, a solid, warm and welcoming air. The way the farm buildings and houses cluster round the village green harks back to the days of the "border reivers" when robbers came down from the troubled border lands between Cumberland and Scotland to steal cattle and goods - when word was passed that the reivers were in sight all the animals were herded from the nearby fields into the village green where they could be protected!
Local Amenities:
Regrettably we no longer have a pub of our own, but it is only 20 minutes to walk to the Shepherds Inn at Melmerby (ring 01768 889064) which always has a good selection of guest beers and serves excellent, home-cooked food. It is always advisable to book if you are wanting to eat there. The next nearest pub (about 3 miles) is the Fox at Ousby about which we have heard excellent reports since new management took over recently (ring 01768 881374) There are numerous other good pubs and restaurants serving excellent food in the area, and details can be provided.
The Old Village Bakery at Melmerby is a hugely popular cafe/restaurant with a small shop, and there is another village shop in Langwathby just 4 miles away. Also 4 miles away is the wonderfully quaint Watermill at Little Salkeld which grinds flour and grains with its traditional stone mill wheels. Mill tours are often also available - see the Links page.
There are numerous tourist attractions in the area which are reasonably priced and cater for all tastes. Have a look at the local tourist board sites listed in the Links Page.
Other things to do: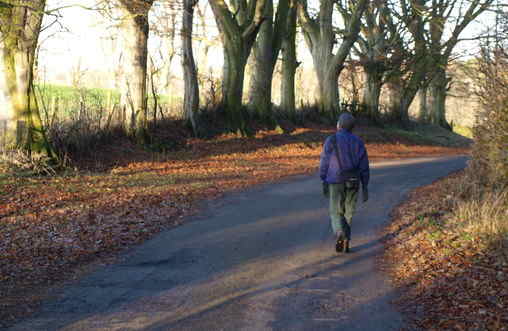 The area is superb for walking and cycling, both on and off road, and we will be happy to recommend good routes for your chosen activity. As mentioned above there is excellent fly-fishing on the Eden and other local rivers, and temporary membership of the local club is quite reasonable. There is also fly-fishing for rainbow trout available at Blencarn, about 20 minutes away. Horse riding and golf are both to be found within 10 miles and Eden Soaring, a new gliding club, is just 4 miles away. For those happier at the wheel, the famous Hartside Pass climbs the Pennines just behind our village and is well worth a trip - the AA list this section of the A686 as one of the 10 most scenic drives.
Shopping:
Whilst this is perhaps not the obvious location to choose if you like sauntering round the shops, you will find our market town of Penrith does offer a lot of unusual and independent shops which make a refreshing change. It also contains an excellent choice of supermarkets, including a new Marks and Spencer food hall, Morrisons, Sainsbury and Booths all with good parking facilities. There is a monthly Farmers' Market (Tuesdays) and monthly Artisan Market selling local produce and crafts - the first Saturday of every month. Penrith is probably the best place to stock up on your food, although small necessities can be bought at Langwathby, Kiroswald and Melmerby. And Carlisle is an historic City with great shops to wander round as well as historic sights to enjoy.